Pin bar or candlestick hammer is a type of reversal candlestick pattern that appears when the price opens and closes approximately in the same area.
Hammer candle is characterized by its tail that is triple the size of the body and a small body as compared to the tail.
The hammer and hanging man are identical in shape but differ in their indications, This difference is due the previous price movement.
There are 2 types of pin bar: The bullish pin bar and the bearish pin bar
What Is A Bullish Pin Bar?
The bullish pin bar candlestick appears at the bottom of a downtrend and signals a potential bullish reversal.
The hammer appears when sellers are trying to push the price lower, where prices fall during the speculation period, but buyers reject the price.
Forex 100% Non-Repaint Indicator
Download Now
The Bullish Pin Bar Candlestick Is Made Up Of :
small body (any color)
long lower shadow which indicates that buyers are trying to push the market upward
little or no upper shadow
Look at the above figure, the market is in a bearish trend, the formation of the bullish hammer candlestick is a signal for a bullish reversal.
Sellers are trying to push the market downward, but buyers reject it. (Buyer power is greater than seller power)
How Do You Know If Hammer Is Valid?
If the Hammer appears in the downtrend, followed by a long candle signals a buying power and closed higher than the pin bar then it's considered a strong signal for the end of the downtrend.
Note: The longer the wick of the hammer, the stronger" the price rejection. The color of the candlestick doesn't matter, however, if the color is positive, it indicates a high purchasing power.
Trading The Hammer In The Trend
After drawing the Trend line on the chart, and you found that the direction is uptrend, then you will seek for buying chances.
Support & resistance: after the price penetrates the resistance level, it becomes support level, and tests it before resuming the upward movement.
Hammer rejects supports level.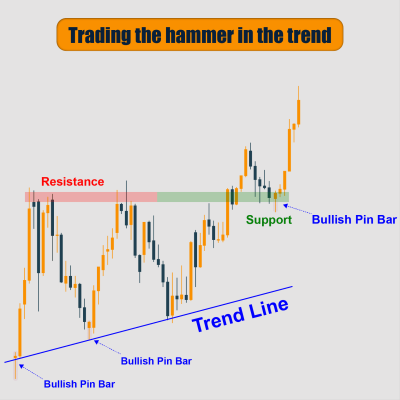 When the market swings and moves in sideways direction, where resistance level at the top and support level at the bottom.
We seek for the bullish pin bar when the price touches the lower boundary of the sideways channel or the support level.
Forex 100% Non-Repaint Indicator
Download Now